Louie Schwartzberg: Hidden miracles of the natural world
Although not a 'Christian' presentation, this seven minute TED talk demonstrates the overwhelmingly beauty and awesomeness of creation, which surely can only have been created by an awesome God.
Gateway to the Bible
The Bible is the primary way God communicates with us. The Bible Gateway is where you can read at least 20 on-line English bible translations and many more in other languages, with and without footnotes and cross references.
There are also Audio bibles here so get listening and turn your speakers up!
The Jesus film
Making history come alive is what the "JESUS" film is all about. A very authentic film about the most important man who ever lived: Jesus of Nazareth. Available as videos for adults, videos for childern and audio presentations, all in many different languages.
'Tis the Season
Christmas is supposed to be about Joy, but this year has been rough for many and there's not much joy in sight. Are we out of luck this Christmas?
If
So many times we blame everyone or everything else for our situation.
Welcome to 'Our' Church
This is what an ideal church could be like. We hope you have one like it in your locality.
Psalm 23 - Life In The Valley
Prayerscapes present "Psalm 23 - Life In The Valley", a reading of this popular psalm, often referred to as "The Lord is my Shepherd". The music to this film is entitled "Life In The Valley" and is taken from album "Into Eternity" by Prayerscapes
The full story of life G.O.S.P.E.L.
Amazing gospel rap from needhim.org about the full story of life G.O.S.P.E.L.
Jessica's Story
Everyone has a story. This is an awesome story of how God can call a person to Himself and His power to restore.
Stethoscope
A man finds a stethoscope with unusual powers. He discovers the soundtrack is playing inside him.
Change the World
Christ's death and resurrection means we get to be directly involved in God's plan to redeem this broken world. It's not just a wishful idea, it's a call to every follower of Jesus to change the world.
The Fall
The story of The Fall of Mankind, a video preview created by Dan Stevers.
This is the bad news, however the good news (of Jesus) can be seen in other videos on this web page.
The Lord's Prayer
A visual interpretation of the most famous prayer in the bible. Matthew 6:9-15, Video preview created by Dan Stevers.
The Cell
This is a prison you've built brick by brick. Welcome home. A mini-movie preview by Dan Stevers.
The Christmas Story
The Christmas Story, a video preview created by Dan Stevers.
We Give
This video was created for one reason: to paint a portrait of the REAL reasons for giving. It's a mission statement about the values of the Church and the reasons why we give. Video created by Dan Stevers.
Life with God
So what is life with God all about. This short video preview by Dan Stevers reveals the only correct answer.
Out of Control
Bad habits, if left unchecked, can cause us to lose focus on God. We need to recognize them and lay them before God or those bad habits threaten to send our lives spinning out of control.
We Are The Church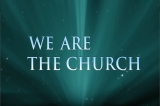 This short video explains why the Church exists. Click here to find out.
My King
Though God can't be described with just words, this is as close as you can get this side of Heaven. This is an amazing video tells it the way it should be.
Get Saved
Click Get Saved to see a great Flash music video with text instead of video. 'Very good' is an understatement!
Father's Love Letter Poem
Click the 'Read more:' link below to find one audio poem and and two video poems of the famous biblically poetic work known to millions around the world as Father's Love Letter. Playing them may change your life! You can read the text version here.
Amazing Alan - Canon
This a humerous audio sketch with a powerful message.
Getting into Heaven
A humorous audio sketch with a powerful message.


Phone call to Heaven
A humorous audio sketch with a powerful message.
An Interview With God
Probably the most awesome video we have watched! Created by Richard Holdman.
24-7 Lord's Prayer
A multi-lingual video of the world's most famous prayer.